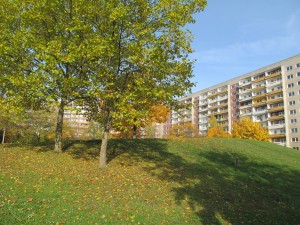 Leipzig-Grünau, located in the West of Leipzig, is one of these identity-evoking places. Systematically created since 1976 together with Berlin-Marzahn and Halle-Neustadt, it once belonged to some of the largest housing projects in the former GDR. Today, counting around 45.000 inhabitants, Grünau is the largest residential district in Leipzig. Among the residents, the memory of Grünau's foundation is still very much alive: they had to improvise paths, helped out on the construction site, and walked to the tram in rubber boots. Once called "Schlammhausen" ("mud town"), this label eventually became a unifying term which strengthened an identity as well as a myth of origin.
On a symbolic level the district has always been more than a mere cluster of architecture: widely visible, here the district materialized the state's vision of the future for which it was elementary to guarantee affordable housing. Instead of being separated into several districts, people lived together under similar conditions and in similarly designed apartments. The solemnly emphasized vision of social equality, which was never realized, was supposed to be represented in the uniform distribution of housing space and consumption goods as well as in buildings constructed from prefabricated and serially mass-produced slabs. These buildings were designed to fulfil "the socialistic lifestyle" of nuclear families within housing communities. Today sociologists consider die Platte as a symbol, "which describes a complex connection between GDR ideology and edificial-spatial configurations of social behaviour" (see Christine Hannemann). The architecture of large-panel system building is itself formulated on the grounds of rationalisation in the construction sector, which attracted criticism from the very start of the concept. The Plattenbau was considered a symbol for a failed housing policy not even before 1990, but today it has also become synonymous with a failed state. Even 25 years later, it remains difficult to remove the Plattenbau from ideological judgments; it became a category of criticism of both the GDR and modernism. However, this interpretation often neglects both the national and international character of housing projects, prefabrication, and industrialization. All of these to ideas and experiments of modernism.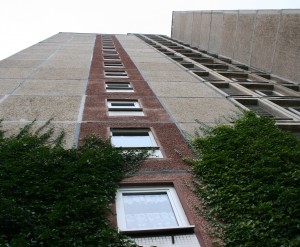 Among scholars and historic preservationists, but also among the new generation, the assessment of these ample 1970s housing complexes has changed. Since they did not experience either ideological or economic conflicts, they appropriate the specific qualities and aesthetics of the Plattenbauten in new ways – both in Eastern and Western Europe. Sometimes this practice embraces a particular longing, explained by Journalist Oliver Koerner von Gustdorf as the experience of utopian absence: "The one time visions of incessant progress appears as a repeated dream in which we regain something that we never actually possessed." Today investors hold more power than the architects who back then were bound to serve the common good and whose main architectural objective was civic improvement. Nowadays, investors define building sites and capital, they preordain ground plans and eligible residents. And the growing extend of the capitalist utilization mechanism does not end here: facade fragments, once belonging to buildings of the 'Ostmoderne' ('Eastern Modernism') in the 1960s and 1970s have now been glued to shopping mall fronts. And Plattenbau elements become fashionable design pieces – reduced to one-dimensional architectural quotes. Merchandized as style icon, the Platte goes mainstream and it has been absorbed by popular culture as a relic of a lost era. In the narrative of urban decline and revaluation, large housing estates and concrete-tower blocks have obtained their own plot line.  It is only a matter of time, one wonders, when Plattenbauten will be taken over by the gentrification processes. Considering these trends, artists who work in these now decayed or neglected neighbourhoods, too, must question their own role within the system of estate valorisation.
The above statement by Oswalt M. Ungers implicitly contours a bundle of assessments, purposes, accusations, and sensitivities which supposedly appears inescapable in the context of large concrete housing developments. However, it is often not considered if the residents actually enjoy living in their neighbourhood and do not want to move away. This is where the festival RASTER : BETON makes the connection: We see Grünau as a living space – an environment where living in all its multiple social, cultural, and biographical dimensions takes place; a place which is connected with the other parts of the city and simultaneously characterized by both a specific architectural aesthetics and the contemporary concept of urban renewal. 40 years after its conception, histories have been continuously added.
Still, the issue of affordable housing remains as important today as it was back then. Cities such as Halle, Berlin, and Leipzig are growing again, and, not only in Berlin, the Plattenbau is being re-discovered. Living in Plattenbauten is a legitimate option again – thus, it has become a resource which can be used for modifications and reconstructions. New concepts for undeveloped spaces and architecture are in demand. Does the Plattenbau offer new opportunities? When stigmatisation still predominates and shapes the public opinion, is it possible to develop new visions and realize housing possibilities in a way Wolfgang Kil predicted in his 2004 publication "Luxus der Leere" ("The Luxury of Emptiness") as a result of shrinking cities?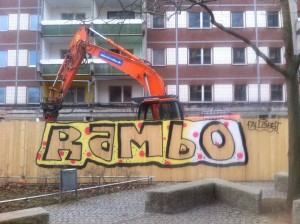 The number of residents in Leipzig has been a gradually growing for the last few years: in 2014 the city welcomed 13,000 people. Although Leipzig has been drawing more and more attention, the city still finds itself in a situation where changes can be influenced and shaped. How can it be avoided that Grünau and its history become the object of one-dimensional, thoughtless desire, or prevent it from becoming a mere object of nostalgia or fashion. Dedicating oneself to the example of Grünau provides the opportunity to visualize contemporary means of living and imagining its future. However, this issue is not limited to the local, but it is of national and global significance. Consider Berlin-Marzahn, Munich-Neuperlach, Toulouse-La Mirail or Moscow-Saburowo – "Grünau is everywhere." It has become a topic more relevant then ever: growing cities worldwide need mass housing schemes. In China, Mexico, and Russia new public housing estates are under construction, and their dimensions are suited to smash European imaginations. For this reason, international artists who can help us with their views, backgrounds, and knowledge to challenge the predominant perceptions of our cities will be invited to participate in this project.
The festival intends to link various questions and problems, broadening the attention to a national level. We intend to employ art, not for exotic adventures at yet another site, or to create a solemn hyperbole of the past, rather we aim for initiating a debate. The festival which lasts several weeks and takes place in multiple locations, invites those interested in history, culture, and architecture, as well as architects and tourists to think about this global phenomenon and to gain new perspectives on the local. Here, art can provide valuable feedback.