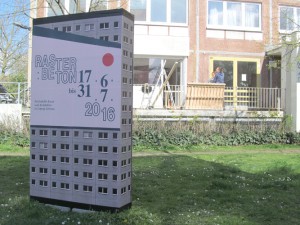 17. Juni – 31. Juli 2016 in Leipzig-Grünau
From June 17th to July 31st, 2016, the international festival RASTER : BETON will take place in Leipzig. Hosted by the D21 Kunstraum Leipzig, the festival focuses on large housing estates from the perspective of contemporary art. The Plattenbau district Leipzig Grünau sets the scene. Beside Berlin-Marzahn and Halle-Neustadt Grünau was one of the largest of its kind in the former GDR and today still represents the largest housing estate in Saxony. RASTER : BETON consists of four elements: an exhibition, national and international artists working in Grünau, a symposium, and an accompanying framing programme.
The festival relates to Grünau's 40th anniversary. Being the most recent and largest district in Leipzig it represents the »Platte« (slab) and a moving history of construction and deconstruction. On the occasion of the celebrations for the 40th anniversary of the foundation of Leipzig-Grünau, 2016 is the ideal moment to shine a light on the highly symbolic architectural style and cultural phenomenon »Plattenbau«.
»Each space takes time to become a place«, explained the German architect Oswalt Matthias Ungers. This statement can be applied both as an apology and a description of large housing estates worldwide. Using the example of Grünau the festival RASTER : BETON searches for insights on a worldwide phenomenon These residential areas cannot only be contemplated as isolated issues; a comparative view promises to be more gainful than persisting on the local example: Utopias, ideals and present life realities of the large, planned communities ought to be examined in an international context. The architecture and the district, by ist non-organic history, pose relevant questions: Which are the places of identification? Which are the places shaping and creating identities in non-organic, planned urban districts? How could these places be vitalized, communities established, and social and cultural practices encouraged? National and international artists will work out their responses. A leap from the close-up towards the macro perspective: Berlin-Marzahn, Munich-Neuperlach, Toulouse-La Mirail oder Moscow-Saburowo – Grünau is everywhere.
The festival RASTER : BETON will be held from June 17th up to July 31st, 2016, in D21 Kunstraum, Leipzig, as well as in different locations throughout Leipzig-Grünau and comprises the following elements: An exhibition of contemporary art at D21 Kunstraum in Leipzig, a two months lasting artist programme to realise urban interventions during a stay in the city district of Grünau – the connected Call for Artists has been recently released – asymposium as a platform for sharing positions of well-known speakers, residents of Grünau and artists, offering a space for topic-specific exchange and networking and a framework program which consists of a film screening programme, art mediation events and city tours guided by locals.
RASTER : BETON is a project of the D21 Kunstraum Leipzig e. V.